Additional Services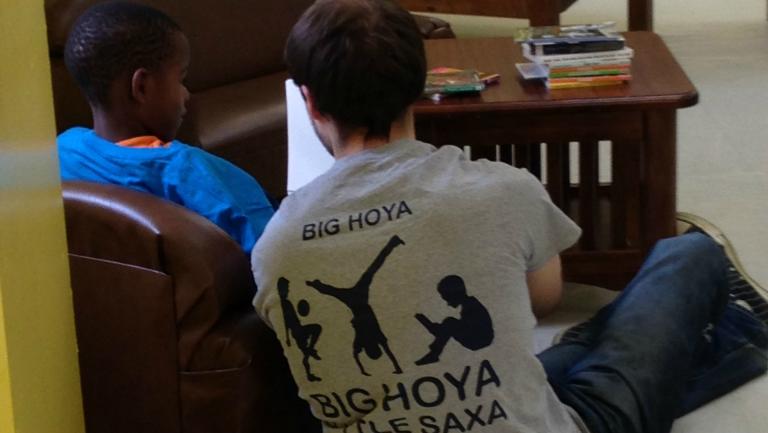 Wellness Workshop
HOYA Clinic is dedicated to providing our patients opportunities to improve their health habits.
We offer free exercise classes. Come to three workshops and you will receive a free month-long membership to a local DC recreation center!
Maternal Health
HOYA Clinic's maternal health program seeks to provide expecting mothers at DC homeless shelters with access to prenatal education during pregnancy; a strong, female-led community that provides social support during pregnancy; and continuity based transition to an OB/GYN provider for labor and delivery.
Beyond this service to the community, the Maternal Health program aligns with HOYA Clinic's mission of exposing students to healthcare disparities and enhancing medical students' access to clinical education. Being an entirely student-led program, this program fosters the leadership skills and medical knowledge necessary for students to to succeed as future physicians.
IronMed
Every year Georgetown University School of Medicine and HOYA Clinic host an IronMed Triathlon in support of our student-driven clinic. All of the donations from this race go directly to HOYA Clinic and our efforts to serve our patients.
We invite athletes from all over to join us in:
Individual Sprint Triathlon ($25 registration fee, $150 fundraising goal)
Team Triathlon – 1 person for each event ($50 registration fee per team, $400 fundraising goal)
5K ($20 registration fee, optional fundraising goal)
IronMed Triathlon date, registration, and fundraising information will be posted at IronMed Triathlon when available.
Child Assessment Team
The HOYA Clinic is proud to offer childhood developmental milestone screenings though the HOYA Clinic Child Assessment Team. CAT screens children between 2 months and 5 years and 10 months of age using the Ages and Stages Screening Questionnaire to identify children who may need some extra help before they begin school. Any parent interested in getting their child additional tools to succeed can then be connected to free services offered Strong Start and Early Stages, two programs run in conjunction with DC Public Schools.
Screenings are offered between 6:30 and 8:30 PM every Thursdays at the HOYA Clinic. Appointments are not required, but are encouraged. Please call the HOYA Clinic at 202-468-4816 for more information, or to schedule an appointment.
Big HOYA Little Saxa
Big HOYA Little Saxa is a Mentorship Program involving Georgetown medical students and children experiencing homelessness in DC. One Saturday every month, a group of 25-30 Georgetown medical students holds an activity day for children and teens 5 years of age and older. The afternoon's activities encourage reading, expression through writing and crafts, and promote healthy lifestyle choices.
This is a wonderful opportunity for students to build positive relationships within the community HOYA serves, outside of the clinic walls.
Summer Sports Camp
The annual HoyaMed Summer Sports Camp is an extension of the Big HOYA Little Saxa Program that is organized typically during the last week in July. This day camp for children ages 5 to 14 who are experiencing homelessness provides a great outlet for fun and learning.
Approximately 40 medical students volunteer as counselors, leading outdoor sports and games each day for the children at the fields next to RFK Stadium. Previous camps featured exciting speakers and guests including Lori Lindsay of the US Women's National Soccer Team and the hip-hop dance team Culture Shock DC.